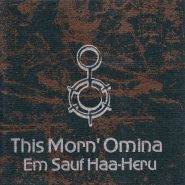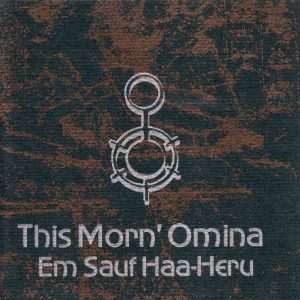 Although it is difficult as an artist to evaluate your own work the goal which had been set when preparing this release has been reached to my knowledge.
Em Sauf Haa-Heru tells the second part of the story, i.e. the 'Hegira', the roaming/dessimination of mankind throughout the universe. Starting with "Procession of the Sacred Bull" it is indicated that this journey will be a slow and painful one with many dangers and unknown entities lying ahead of us (cf. "Hannibal ad Portas" / "The Face of the Waters"). Although Em Sauf Haa-Heru speaks of a journey in the mind it has been one of the objectives to attain a possible projection of actual future events taking their root in past events (cf. the bewilderement of the first discoverers reflected in e.g. "The True Voices of The Tree" and "Spires of the Moon" when being confronted with the new and unknown).
"The Void which Binds" discusses the theme of 'linkage', i.e. to what extent are human beings connected to one another? Is their surrounding environment? Their mutual experiences which cause them to be linked? A great influence came from Simmons work in this respect. It has to be said however that Em Sauf Haa-Heru is not merely a reflection or a copy of the story Simmons has told in his Hyperion Tetralogy, it is an in depth inquiry into his ideas which resulted into Em Sauf Haa-Heru.
It is my personal hope that you as listener are willing enough to undertake this journey I have made myself without following exactly the path I have walked.  You are free in your mind and spirit to interpret and comprehend. It is my sincere hope that you may travel under the protection of Heru. – Mika Goedrijk, TMO
Musick to Play in the Dark:

Tracklist:
1 Procession Of The Sacred Bull 9:54
2 Hannibal Ad Portas 3:42
3 The Face Of The Waters 9:32
4 Starchild 8:11
5 The True Voices Of The Tree 2:45
6 Spires Of The Moon 8:07
7 Signs And Portents 3:27
8 The Void Which Binds: Kheph-ra / Dawn; Seneshai 27:02
Artwork: Sandy Nijs
Catalog#: HCD 03
Released: 1998
Status: Deleted