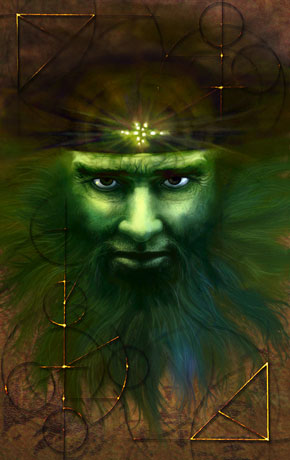 The Green Face
by Ben Mitchell
Silence & Strength is a project created by a talented Israeli musician Stephan Friedman. Interfusing noise, drone, glitch and experimental dark ambient he creates soundscapes in a highly structured and ritualistic way. Secret musical spaces of Silence & Strength will enchant those who feel that there is too little sounds around them and who want to know them all.
Silence & Strength joined HORUS CyclicDaemon in 2004 on "100th Anniversary of Liber AL" compilation with the track "Secret Name". Since then Stephan has been working on a special album to be published at HORUS CyclicDaemon. The album will be a tribute to the works of an extraordinary writer Gustav Meyrink.
Gustav Meyrink has long attracted readers for his masterful stories, examining the supernatural, the macabre, the spiritual, and the occult. With complex and ambitious novels, such as "The Golem", "The Green Face", "The Angel of the West Window", and "The White Dominican" Meyrink intertwines past and present, dreams and visions, myth and reality in a world of the occult, culminating in the transmutation of physical reality into a higher spiritual existence.