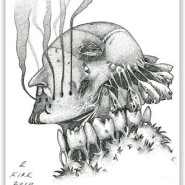 DELAYED.
We are pleased to announce that Richard A. Kirk, guy with a rich imagination, shall design art-work for delayed album of LINGUA FUNGI: Melankhton (CD).
He says about himself:
»I am an artist. I spend a lot of time thinking about images and then a lot of time making them. Typically I work in ink and silverpoint but I also paint and construct things. I also work in an archives within a library. That helps with the thinking part.«
And what others say about him?
»What Richard has succeeded in doing here is to draw a dark,strangely beautiful world—a world uniquely his own (which I would love to see more of by the way)… He has made his places real and his people breath.«
– Mike Mignola, award-winning creator/writer/artist of Hellboy
We are really proud to have him to provide his beautiful illustrations for this imaginary opus!
LINGUA FUNGI composes an intelligent and intelligible ambient electronics and all of you shall be surprised be the exquisite tones and sound colours. What a beautiful melancholy!
It shall be released in Spring 2011.
*