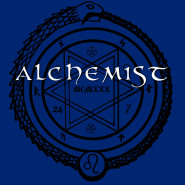 2nd in a set of 4 ep's, each named after one of thee elements.
"An alternative to natural sound. Brought forth from deep within the soul of Alkemisti, the sole member of Alchemist, this project endeavors to search the dark side of thought and sound. Founded in the past, as the tracks pave the way for the future. Alchemist is a project of unknowns…a study in mystery. Who is Alchemist? The tracks will surely lead you to the truth…."
Now with all-new artwork by thee excellent Danish Ritual Artist Madguten, specifikally komissioned by Alchemist.