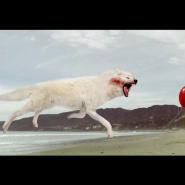 I had the pleasure of collaborating on this surreal short film "Seagulls" with the phenomenally talented Mato Atom. We filmed on the beach in Santa Monica and I wore a red bikini
by Michael Kors
.
I am admittedly fascinated by drones, but suspicious of their applications. There are many ways to interpret this modern cinematic twist on the classic Little Red Riding Hood fairytale.
A love story, a totalitarian future, or an Orson Wells fantasy.
For me, this creates a dialogue about privacy, surveillance, and civil liberties. Do we accept these policies as they blend into the atmosphere like Seagulls or do we protect ourselves from them?  It begs the questions:
What do you value most about privacy?
What liberties are you willing to relinquish?  
I do think there are many wonderful uses for drones like cinematographic purposes, search and rescues and saving lives. I would love to hear your opinions or links to relevant news along with ways to protect privacy and civil liberties while allowing reasonable use of unmanned aircraft.