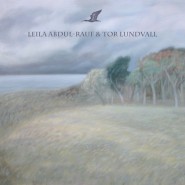 New release of Tor Lundvall is a 7″ vinyl recorded in collaboration with multi-instrumentalist Leila Abdul-Rauf.
Leila and Tor Lundvall first got in touch in late 2011 and our exchanges eventually led to a musical collaboration. During a visit to his home in May 2012, Leila wrote a spontaneous track on his Winter piano entitled "Ibis". He recorded and engineered the track along with her vocals. Later that month, he added various sounds and ambient washes to the mix. A solo version of "Ibis" (featuring the original piano / vocals but with additional horn) was released on Leila's beautiful debut LP "Cold and Cloud" in 2013, however the earlier, collaborative version has remained unreleased until now. It was agreed that a 7″ was the perfect format. For the B-Side, he constructed a new track entitled "Quiet Seaside" around some of Leila's guitar riffs which he also recorded during her visit. He sent Leila his early mix and she added brass and vocals. Her additions complete the picture and evoke his childhood memory of distant music from a boardwalk echoing down to the empty beach below.
His next instrumental album entitled "The Park" will be released by Dais in late 2014 or early 2015.