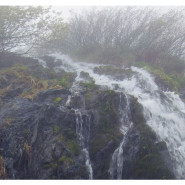 Meltstream really began in 2007 when Steve and Roy first met at Steve Roach's Soundcurrent Masters Workshop in Sonoita, Arizona. During the week long workshop, the group would improvise over the music of one of the artists present with Roach doing the live mixing. Steve says, "Some of the most personally satisfying and compelling moments for me, were when Roy and I would combine sensibilities. There was a richness and depth there that I wanted to re-create, hear and experience over and over." In 2013, Roy sent Steve a handful of sounds (guitar and keyboard loops and sketches) that Steve then wove together with his own keyboard textures, field recordings, shakers, sandstone, whistles, voice, etc.
Some titles were inspired by a dream that Roy related to Steve ("strange lights and firefly stars"), another was inspired by a photo that Roy took at the workshop in Sonoita ("My Shadow And The Morning Sun"), and others organically grew out of creating the arrangements. Roy and Steve both have a strong affinity with nature, especially the mountains, and this music grew out of those moments, immersed in nature…and sound.
The sounds at the end of "My Shadow…" were created with sandstone collected in Sonoita by Brand and Roach in 2007, and the bird sounds at the end of "My Shadow…" were created with a bird whistle given to Brand by Mattson just after the workshop.