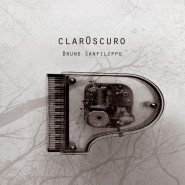 Barcelona based piano player and electronic musician Bruno Sanfilippo is a classically trained musician and composer who has been exploring the borders of minimal piano concepts and electro-acoustic music for more then 20 years.
His CD series PianoTextures sets him in a direct tradition of artists as Harold Budd and Brian Eno, combining slow piano tunes with electronic soundscapes. With ClarOscuro he now makes his step into the genre of modern classical music by presenting his first composition work for piano trio. Most of the nine tracks on the album feature Sanfilippo accompanied by spanish musicians Manuel del Fresno on violincello and Pere Bardagi on Violin, while some of the tracks still let the sensitive piano playing stand on its own.
With the fragility and beauty of some Arvo Pärt compositions and a high cinematic touch, "ClarOscuro" brings the perfect soundtrack for an imaginary movie.
*