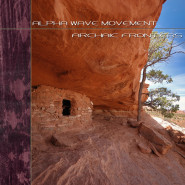 How to describe the music of Alpha Wave Movement without making links with Steve Roach?
Beautiful and extremely enticing, with a delicate ambient approach tinted with these lines of synth which tickle as much that they attack the passivity of soundscapes, the music of Gregory Kyryluk is strongly imprinted of this West Coast School such as defined by Steve Roach or still Robert Rich. Composed between 2009 and 2014, "Archaic Frontiers" is more down to earth and has only as cosmic touch some astral and starry winds. It's rather an album which drinks more of this mythical ambience where the tribal rhythms lay down their meditative hold in esoteric moods that make sing dusts of lands lived by the impressive sculptures that are arcs and monoliths of the American deserts. It's a very beautiful album filled by quiet moods which go between our ears like the most warm and musical winds which caress and mould within times these superb architecture of castle trapped in mountains made of sands.
Gregory Kyryluk, and this no matter his clothes, is undoubtedly one of the best-kept secrets of this latent American invasion which quietly extends beyond doors of perception. With its meditative ambiences shaken up by delicate rhythms, as harmonious as tribal and abstruse, "Archaic Frontiers" is a very beautiful album where Alpha Wave Movement draws his visions that we can easily feel and even see with a music which is to the service of imagination.
Sylvain Lupari, gutsofdarkness.com & synthsequences.blogspot.ca, March 29th, 2014.
A further trek of Alpha Wave Movement into the dominions of dusty red terrain and enigmatic crimson sunsets. Canyons and plateaus that echo a shamans motif of tribes lost in the mist of time & forgotten history. Music infused with improvisation and imagery channeled thru electronic medium and carved into form. Refractive tone clusters and their rhythmic counterparts vibrate thru the sediment and stone on the Archaic Frontiers.
*