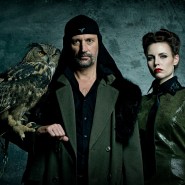 The Provocative Slovenian Industrial Group Return With a Visual Manifesto
The Whistleblowers comes from Laibach's uncategorizable forthcoming album Spectre, the rousing synth-pop of "The Whistleblowers" is inspired by provocateurs such as Edward Snowden and Chelsea Manning, continuing the band's long-established critique of power and political freedoms.
"They predicted the downfall of Yugoslavia through their music," says Norwegian director Morten Traavik of his most recent collaborators. "Now they're back in sync with what's happening."
Formed in 1980 in Trbovlje, Slovenia, Laibach started the Neue Slowenische Kunst art movement, which eventually became a 'virtual country' complete with its own passport, amassing a vast collective body of work that was showcased at London's Tate Modern in 2012. The nostalgic and utopian feel of today's song is matched by a video that stars a group of young athletes from Riga, Latvia.
"It was shot using a one-of-a-kind LOMO camera lens from the Soviet Union," says Traavik. "This resulted in this extreme widescreen format, much like a three-stripe national flag with the video as the middle stripe."
The director's 2012 clip of a North Korean accordion band performing A-Ha's "Take On Me" shared the group's playful exploration of patriotism and nationhood, while accruing two million YouTube views: "We felt straight away that this is a Laibach-kinda person," say the band.
*