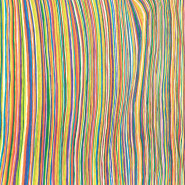 "Nipomo is a joyful and summery record. Thus, its subtitle is Hœw Te Survik Winter (How To Survive Winter)," Dva reveal, as they plan a March US tour in the wake of the release of their new record, followed by concerts in the Czech Republic and Slovakia in April and the rest of Europe.
The album, similarly to their previous material, contains made-up language, each song also features Czech and English translations. And what is the single, "Mulatu," about? "Mulatu in a way has a social theme, which is not usually the case with us. It is about unemployment and the urge to give up." Jaromír Plachý from Amanita Design, the creator of the Botanicula video, to which Dva composed an acclaimed soundtrack, has contributed to making of the video for "Mulatu."
The video maker concludes: "Perhaps I'm not the best person to interpret conflicts and catastrophes around us. What I did dare to do was to mediate the uncertainty, indifference and apathy, which the various cataclysmic events invoke in us. It is my statement about happiness, on which we will once choke."
"The album features plenty of field recordings – made in the Pacific and Atlantic oceans, sounds of ping pong, ten kinds of walking in snow or five ways of walking in grass. The recording was accompanied by an enormous crop of mushrooms, its everyday picking and bottling and cutting wood for heating," say Dva about the inception of their album. Dva have played around 600 live shows since 2006, most of them abroad and across the whole of Europe and the US. For their albums Fonók (2008) and Hu (2010), they received the Anděl award. Their following record, a soundtrack for the Botanicula videogame (2012), was awarded the IGF Award 2012 for the best soundtrack for a computer game in San Francisco and also received nominations at the UK Music & Sound Awards.
Nipomo will be the first Dva release to receive North American distribution.