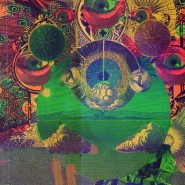 The fourth incarnation of Strange Attractor Journal has already started walking among you; and that, as always, is something that requires ceremony and celebration.
From Haiti and Hong Kong to the fourth dimension and beyond: discover the secrets of madness in animals; voodoo soul and dub music; ancient peacock deities; Chinese poisoning cults; the history of spider silk weaving; heathen mugwort magic; sentient lightning; Jesuit conspiracy theories; junkie explorers; Dali's Atlantis; the resurgence of Pan (in London's Crouch End); anarchist pirates on Madagascar; an ancient Greek Rip Van Winkle; French anatomical waxworks; Arthur Machen's forgotten tales and the full text of Alan Moore's unfinished John Dee opera.
Ten years since we began organising live events, four years since the publication of Journal Three and seven years since the appearance of Journal One, we are still here.
But what, after all this time, is Strange Attractor?
It is points of intersection and transition; it is the syncretic filaments connecting culture and nature, science and magic, past and future; it is the relationships between secrets and mysteries, humans and animals, us and not us, and the questions that arise from those relationships.
With these eighteen new contributions we continue to celebrate unpopular culture; charting uncertain territories, unearthing improbable histories, exploring fragile realities and seeding further possibilities.
Looking for Libertalia – David Luke [A lost anarchist colony on Madagascar and A General History of the Most Notorious Pyrates]
Revolutionary Spirit Wars in Contemporary Haiti – John Cussans [Superstition, politics and species war on the troubled magic isle]
Underworld of the East – Mike Jay [Actual Experiences of the Underworlds, Drug Haunts and Jungles of India, China and the Malay Archipelago]
From Atlantis to Mars: The Dream of Venus – Ken Hollings [Visions of the sunken kingdom, from the house of Dracula to 20,000 legs under the sea]
Haunted Soundsystem – Stephen Grasso [The vinyl legacy of the African magicoreligious diaspora]
Spinning with Spiders' Silk – Eleanor Morgan [The rise and fall of the spider-silk industry in eighteenth-century Europe]
The Cult of the Ku – Phil Legard and Andy Sharp [An ancient Chinese poisoning cult and its influence on twentieth-century occultism]
Pioneer of Higher Space – Mark Blacklock [The multi-dimensional life and times of Charles Howard Hinton]
The Fourth State – Paul Devereux [Does lightning think? Accounts of perceived sentience in electrical plasmas]
Dr Lauder Lindsay's Lemmings – Richard Barnett and Michael Neve [A Victorian scientist's quest to pathologise the minds of the animal kingdom]
The Goat God in Albion – Gyrus [Liminal encounters with the horned and the hooved, from Avebury to Crouch End]
The Cult of the Peacock Angel – Erik Davis [Mythic drama and folklore surrounding the world's polyocular gods, angels and devils]
In Mighty Revelation – Robert Wallis [Mugwort lore and elf-persons: an animic approach to Anglo-Saxon magic]
Between the Angels and the Apes – Alan Moore [Notes and extracts from an incomplete operatic life of Dr John Dee]
The Seventeenth Century Jesuits – Sean Walsh [The paranoid fantasies and strange realities surrounding this enigmatic Catholic sect]
An Afterlife in Another Place – Steve Moore [Parallels abound between ancient Greek and Chinese Rip Van Winkles]
Stories from the Medical Museums – Joanna Ebenstein [Science and spectacle in nineteenth-century musées d'anatomie]
Was He M? – Roger Dobson [John O'London's Weekly, 'Little Fables' and Arthur Machen's little mystery]
[ 228 pages ]