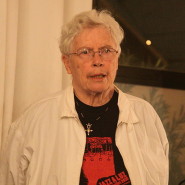 Pauline Oliveros, composer, performer and humanitarian is an important pioneer in American Music. Acclaimed internationally, for four decades she has explored sound – forging new ground for herself and others. Through improvisation, electronic music, ritual, teaching and meditation she has created a body of work with such breadth of vision that it profoundly effects those who experience it and eludes many who try to write about it.
"On some level, music, sound consciousness and religion are all one, and she would seem to be very close to that level."
– John Rockwell
This 12 disc retrospective of Pauline Oliveros' early and unreleased electronic work includes her very first piece for tape made in 1961. The majority of these pieces have never before been released.
"Through Pauline Oliveros and Deep Listening I now know what harmony is. It's about the pleasure of making music."
– John Cage
Organized chronologically by studio, this set not only documents Pauline's earliest electronic music but it also functions as a crucial document of early electronic music. Extensive liner notes including essays from Pauline Oliveros, Alex Chechile, Ramon Sender, David Bernstein and Corey Arcangel. This box set is being released in conjunction with Pauline Oliveros' 80th birthday celebrations.