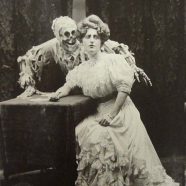 Říj

27
Štítky
Související články
Sdílet
The Order of the Good Death
Welcome to the Order. Welcome to Your Mortality.
The Order is about making death a part of your life. Staring down your death fears — whether it be your own death, the death of those you love, the pain of dying, the afterlife (or lack thereof), grief, corpses, bodily decomposition, or all of the above. Accepting that death itself is natural, but the death anxiety of modern culture is not.
The year was 2010. A young mortuary school graduate named Caitlin Doughty was driving a van that carried eleven corpses at once. Her job was to pick up these bodies at various funeral homes and deliver them to a massive, centralized crematory. She got to meet new people every day– it just happened that all of them were dead. The job also gave her time to think.
As she drove down endless Southern California highways, the bodies stacked behind her, Caitlin dreamed of living in a culture with a more open, honest engagement with death. She believed that change would only happen with a better funeral industry, where the family could be involved with the process, and the dead weren't hidden behind closed doors (or closed vans).
Even though she had no online presence and no funeral home of her own, she began to reach out to people, including funeral industry professionals, academics, and artists who were exploring ways to prepare a death phobic culture for their inevitable mortality. She found kindred spirits and a community, and wanted everyone to know the incredible people that were working to remedy our crippling fear of death.
And so, in January of 2011, Caitlin founded the Order of the Good Death.
Literatura:
Aries Philippe: Dějiny smrti I. Doba ležících. Argo, Praha 2000.
Aries Philippe: Dějiny smrti II. Zdivočelá smrt. Argo, Praha 2000.
Assmann Jan: Smrt jako fenomén kulturní teorie. Vyšehrad, Praha 2003.
Bullington Jesse: Obcování se smrtí. Gorgona, Praha 2014.
Halík Tomáš (ed.), Kropáček Luboš (ed.), Lyčka Milan (ed.), Ondračka Lubomír (ed.), Zemánek Marek (ed.): Smrt a umírání v náboženských tradicích současnosti. Cesta domů, Brno 2015.
Ostřanský Bronislav (ed.): Smrt, hroby a záhrobí v islámu. Poslední věci člověka pohledem muslimských pramenů. Academia, Praha 2014.